Progress Sitefinity 15 - The Future of Content Management is Here
11/8/23
---
As a premium agency partner of Progress Sitefinity, SilverTech is excited about the release of Sitefinity 15.0, the most advanced and feature-rich version of the Sitefinity content management system (CMS) yet. This CMS is packed with new features and enhancements that will help admins create, manage, and deliver content more effectively and efficiently than ever before.
What's New
Rapidly evolving digital technology allows customers to research services and products and easily engage with brands. The changes in customer behavior necessitate that businesses focus on a CMS solution that is scalable, secure, compliant, improves efficiency, gives users a personal experience by using data-drive insights and all this needs to be accomplished with low- overhead and low-maintenance. This is a lot to ask of one CMS and Sitefinity 15.0 delivers. Sitefinity 15.0 provides a modern digital experience by blending intuitive AI-assisted content creation with personalization capabilities, enhanced data connectivity and workflow automation.
Here is an overview of the key features and benefits in Sitefinity 15.0
A Headless CMS
Sitefinity 15.0 includes a powerful headless CMS that lets you deliver content to any device, channel, or touchpoint. This means you can create a truly omnichannel experience for your customers and reach them wherever they are.
This is accomplished by separating the content presentation from the content management. This gives you the flexibility to use the best front-end technologies for your needs and to deliver your content to any audience, regardless of the device or platform they are using. Delivering content to your website, mobile apps, social media platforms, IoT devices and more all from a single platform.
AI-Powered Insights...and More
Sitefinity 15.0 leverages AI (Artificial Intelligence) to provide you with actionable insights into your audience and content performance. This information can help you create more targeted and effective content and improve the overall user experience.
Additionally, Sitefinity 15 includes generative AI capabilities which will allow users to create new content, such as blog posts, articles, SEO metadata and more with the help of artificial intelligence (AI) that is powered by Azure AI. This new feature allows content creators to summarize, optimize, and personalize content by leveraging the AI tool straight from the content editor without writing prompts or the need to switch between platforms.

Sitefinity Integration Hub
Sitefinity 15 has a new Integration Hub, allowing Sitefinity and Sitefinity Insight to integrate with third-party MarTech systems. The Integration Hub leverages industry-leading technology to streamline data integration, allowing customers to connect and exchange data. This new hub lets you set up event-driven workflows to drive automation.
Insight Enhancements
Sitefinity 15.0 has reimagined data import capabilities enabling organizations to harness customer data from third-party systems, unify customer information and activate communication channels with personalized messaging. Sitefinity Insight integrates a new AI chatbot assistant to help speed up the onboarding process.
A New Dashboard
The dashboard gets a revamp! This might be the best feature of Sitefinity 15.0. The new dashboard is customizable, so users can add and remove widgets and rearrange them to create a layout that works best for them. This allows users to focus on the information that is most important to their organization.

The new widgets allow direct integration with Sitefinity insights to allow a quick view into important metrics like most viewed pages over the last 7 days. Other widgets display valuable content information such as pages missing SEO (Search Engine Optimization) metadata. Pick and choose what works for you and customize it in a new drag and drop editing experience for your dashboard.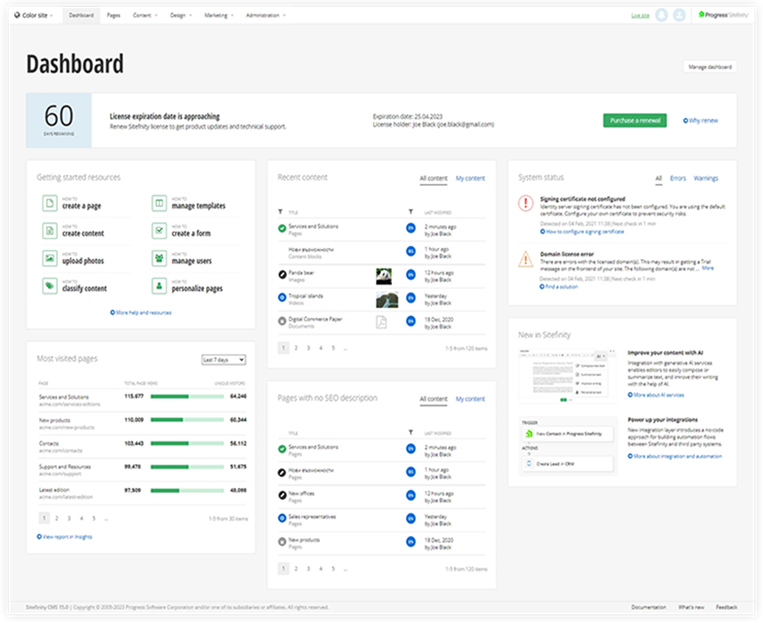 Upgrade to Sitefinity 15.0 Today
If you are looking for a powerful, agile, and flexible CMS that can help you create, manage, and deliver engaging digital experiences for your users, then Sitefinity 15.0 is the perfect solution for you.
To learn more about Sitefinity 15.0 and its features in detail, reach out for a demo.


---