Xperience by Kentico - Discover the Faster, More Flexible DXP Choice
BY: Kim Smith | 11/16/23
---
Kentico is reshaping the digital landscape through Xperience, a state-of-the-art content management system (CMS) that delivers captivating digital experiences for all users. This hybrid-headless Digital Experience Platform (DXP) is driving better business outcomes by delivering multichannel digital experiences (with experience literally in the name).
Kentico has been working on new enhancements to the Xperience platform – and the goal of continuous innovation for this DXP is evident.
New Features and Functionality
Built-in AI
Xperience has the first built-in AI feature. Editors are able to draft content and email drafts with this new generative AI functionality found in the CMS called Content AI.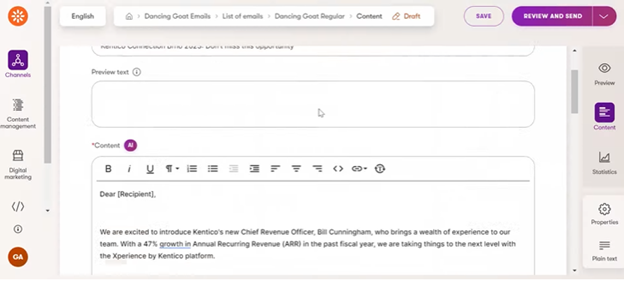 Hybrid Headless is the Best Option

The headless feature offers businesses more flexibility and control while hybrid headless offers the best of both worlds. Headless enables businesses to deliver content across multiple channels from one platform and the traditional "head" supports content and communications via web channels.
Traditionally, marketing content was stored in a specific channel and when marketers ran a campaign, they would copy content from the website to other media channels like social. A modern DXP allows marketers to manage multichannel content in one place. That means that you can make content updates in one location saving time and money.
For most businesses, the website is the primary digital channel. A hybrid headless DXP is the perfect match with the features and functionality of a traditional DXP and offering the option for headless channels. This allows businesses to reach their customers wherever they are.
Enhanced Personalization
What do you do with your customer data? Personalization is the process of tailoring a product, service, or experience to meet the specific needs or preferences of an individual customer. In the context of marketing and customer experience, personalization involves using customer data, such as demographics, behavior, and past interactions, to deliver targeted and relevant content, messages, and recommendations.
You can personalize the experience in many ways, including:
Personalized recommendations – where you recommend products or services most likely to be of interest to an individual customer based on their past behavior.
Personalized content – tailoring content, such as emails, website pages, or social media posts to the interests and preferences of the individual customer.
Personalized offerings - serving up unique or customized experiences, such as events or promotions, based on the individual customer's preferences or behavior.
Giving customers a personal experience not only drives customer engagement and loyalty it will also increase your revenue. Can you think of a better reason to start delivering a personalized experience to your customers?
Request a Demo
Gartner recently said this Kentico offering is ruffling feathers in the CMS world. If you're interested in finding out why - we would love to show you the new features and functionality in this robust CMS.

Reach out today to request your demo.
---